From
August 28, 2018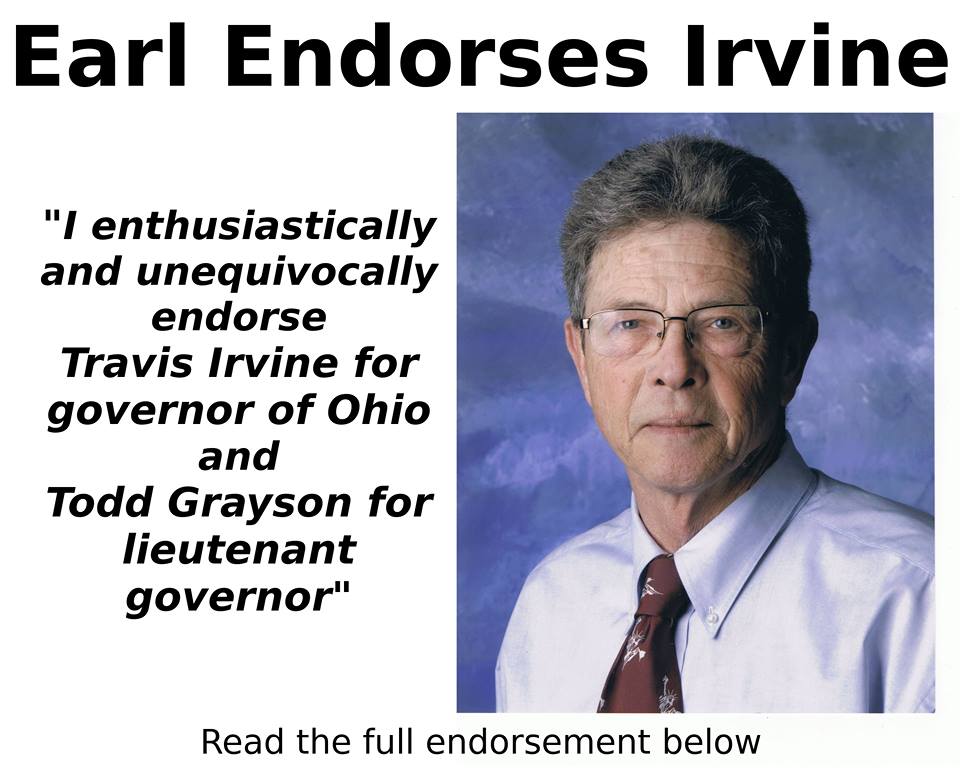 COLUMBUS—Libertarian Travis Irvine received the first major endorsement of his campaign for Ohio governor Tuesday from Charlie Earl, the party's 2014 candidate for the same office.

Earl, an ex-Republican who represented the 80th district in the Ohio House from 1981 to 1984, released the following statement Tuesday:
CONCERNING THE ENDORSEMENT OF TRAVIS IRVINE FOR GOVERNOR

"With the ever-increasing growth and interference of the federal government affecting our daily lives, it is vital that the citizens of Ohio elect a governor and lieutenant governor who are dedicated to individual liberty. Gubernatorial candidate Travis Irvine and Todd Grayson, his running mate, are prime examples of the type of public servants Ohioans require. Our historic reliance on the two-party system has led to the betrayal of our people and the undermining of our democratic republic. Travis and Todd represent a new beginning for Ohio. Fresh ideas and liberty-driven energy are the cornerstones of their efforts to return our state government to its rightful place as a responsive servant of the people rather than a master of our fates.

"Therefore, I enthusiastically and unequivocally endorse Travis Irvine for governor of Ohio and Todd Grayson for lieutenant governor of our state. Their commitments to liberty and their lack of relationships with the Ohio version of the "Swamp" makes them the most qualified for leading us forward. Please vote for Ohio. Please vote for liberty. Please vote to end the two-party strangulation of our potential. I urge you to vote for Irvine/Grayson on November 6th."
"I'm extremely grateful to receive the support of a great man and great candidate like Charlie Earl, and I plan to pick up where he was forced to leave off in standing up for Ohio against the two corrupt parties that control Columbus," said Irvine in response to Earl's endorsement.
Earl's 2014 run for governor, which would have easily won enough votes to retain ballot access for the Libertarian Party, was derailed when Secretary of State John Husted first certified Earl's candidacy, then removed Earl's name from the ballot after Republican party officials orchestrated a technical challenge to Earl's petition. Though the rule in question was ambiguous had never been enforced for Republican or Democrat petitions, Husted's ruling was upheld, forcing the Libertarian Party of Ohio to regain ballot access by spending more than $250,000 on getting more 100,00 signatures from Ohio voters.
Show your support for Libertarian Candidates across Franklin County and Ohio, Donate, Volunteerand Get Involved!