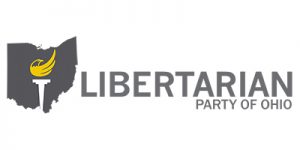 As approved in convention, May 19th, 2018:
Preamble. The Libertarian Party of Ohio embraces the principles and tenets of libertarian thought: individual rights and the freedom to exercise them, confidence in free markets, private property rights, and tolerance for other cultures and ideals. At heart, Ohio Libertarians espouse personal responsibility in social interaction, because responsibility is an essential component of liberty. Our common goal is to defend individuals' primary rights to life, liberty, and property. All people have the right to the pursuit of happiness as long as their actions do not infringe on these primary rights of others. As a State Affiliate, our platform focuses on state-centric issues. We defer positions of national interest to the National Party and incorporate herein their Platform, Preamble, and Statement of Principles*. We defer to our candidates the responsibility of defining specific solutions to local and regional issues within the parameters of our stated principles.
Learn more about the Libertarian Party of Ohio.