Right now, there are literally thousands of people protesting in the streets all over America about the daily harassment from hundreds of "good intention" laws that police use as excuses to force confrontations.
Social distancing and mask mandates are just another example in a long line of well intended, but poorly conceived and inconsistently enforced policies that always come to harm the most vulnerable communities.
Govt is always reluctant to give up power it can use for unearned influence, especially when it's enforcement is arbitrary and subjective.
As mask wearing loses popularity, and people see less actual benefit as well as less social benefit, the community members who are already empowered will feel comfortable wearing them less or abandoning them altogether. This will naturally grow until an unspoken consensus will be reached with most people simply not wearing masks even though they are still legally mandated.
As fewer and fewer people wear masks voluntarily, businesses will enforce their wearing less and less both for employees and for customers, police are disinclined to rigidly enforce unpopular laws, and eventually, even county health departments will back down and simply ignore widespread scofflaws.
As a social stigma on mask wearing balances back towards disinterest, disenfranchised communities will find themselves unevenly targeted for enforcement, as ardent advocates for mask wearing continue to vocally call for increasingly harsh enforcement (to counter the widespread "lawlessness") while also quietly and privately dismissing them.
This will place the disabled, communities of color, LBGT+, poor and disenfranchised residents at a disadvantage in their own businesses and communities.
The longer the mandate stays in place, while people decline to comply, the more corruption and graft will grow around abuse of power in enforcement. When the county health department can shut down your business at a moments notice because customers violated a rule that no one is following, and due process is completely thrown out the window, you don't have a lot of wiggle room if any reputable, but corrupt, individual makes threats and demands.
When you can be arrested, and prosecuted, for not following a rule that no one else is following, you similarly have little wiggle room if extrajudicial demands are made on you by corrupt law enforcement.
This is why govt mandates are always bad. Govt enforcement of even the best intentions will fall most harshly on those without power.
Voluntary adoption of any best practice is the best way to safeguard all of our rights and all of our health.
If you read all this and rolled your eyes, or quietly called "bullshit", please take a moment to think back to those thousands of people protesting in the streets all over America and the daily harassment from hundreds of these "good intention" nuisance laws.
If even one person is harmed from a mandate, where have the good intentions gone?
We would never discourage anyone from wearing a mask if they wish, we hope that everyone is informed of unlikely, but real, risks associated with use.
Be kind, wear a mask if you want, mind your own business, keep up all good habits equally.
#ThinkLibertarian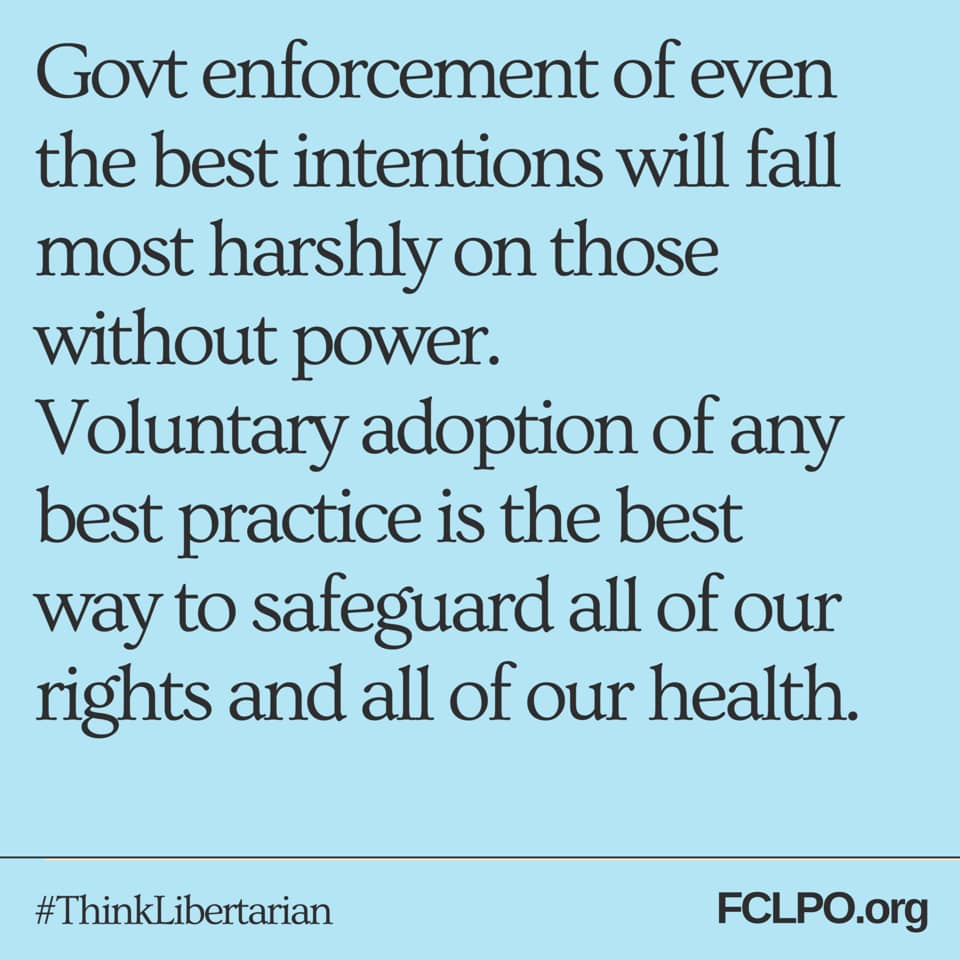 Resources to learn more:
Covid Is About to Become the Newest Excuse for Police Brutality
https://www.thenation.com/article/society/coronavirus-police-brutality/
'That's abysmal': NYC politicians outraged after NYPD reveals 81 percent of social distancing arrests have been minorities
https://www.nydailynews.com/coronavirus/ny-coronavirus-social-distancing-enforcement-20200508-taominwawrhtlajdqjqf5gbdce-story.html
Early Data Shows Black People Are Being Disproportionally Arrested for Social Distancing Violations
https://www.propublica.org/article/in-some-of-ohios-most-populous-areas-black-people-were-at-least-4-times-as-likely-to-be-charged-with-stay-at-home-violations-as-whites