Franklin County needs energetic people to run for office! Libertarian elected officials get to make policy that reduces the scope of government and increases personal liberty.
We encourage first-timers to run for local offices in odd-numbered years. You must file a declaration of candidacy with the Franklin County Board of Elections, with completed petitions containing the number of signatures required for the office you are seeking.
Local offices include city and village council, township trustees, and school board members. See what county, city, village and township elections are in your area.
With a term or two of local office, you will have the experience and credibility to run a successful campaign for county, state, or federal office, but if you have the qualifications to run for a different office, we won't turn you down! Before starting your campaign, take a quick look at our "Candidate Quick Start Guide" video (27 minutes).
Franklin County Libertarians offer free tools for outreach through our Contactshelper platform. Organize volunteers, donors and voters with tags and create campaigns for easy instant phone and text banking. Import your own personal contacts to get a jump start on organizing, and import voter records from your local Board of Elections to identify walking lists and likely voters.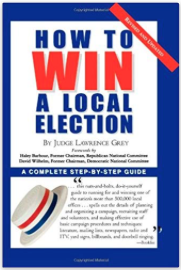 We also highly recommend getting copy of "How to win a local election", or one can be provided to you (you just have to promise to read it!).
We can help you. Please complete this form, and our Political Director will be in contact with you.